Home

›

Games

›

booty farm online
Summary of Game
If you are looking for a wild ride filled with sweet and sexy backsides, then Booty Farm is the game for you. The concept is simple, you are the proud owner of a brand new farm and will be incentivized to work your way up the agricultural ranks by being surrounded and motivated by a team of sizzling babes.
Key Features
The farm mechanics are secondary to the beautiful visuals that accompany this epic quest, as you will be assisted on your journey by a number of buxom beauties. While you contemplate if the farm life is really the right one for you, your assistant Mindy will be sure to use her feminine ways to make you swoon and drool over her, ensuring that you will not give up on the many perks that come with being the head of the house. This naughty nympho is just as passionate about farming as she is about getting freaky in the bedroom, and do not expect her to back down any time soon. As you progress through the many stages of the game you will be handsomely rewarded for your efforts with a high-quality steamy photo which is yours to keep. If one woman is just not enough, never fear because the sultry Mindy knows that a man cannot live on just one woman alone and will use her charms to bring additional jaw-dropping dames into the fold. The continuous growth of the farm's success will mean more opportunities to get it on with a variety of fine females, so if you are into having multiple girls or even multiple girls all at the same time, you will for sure be on the right path once you get started on Booty Farm. Now the ball is in your court big fella as you will still need to have all of the right moves to be able to make these delectable damsels fall for you and open up on a level that is both emotional and sexual. You will then get the opportunity to collect some very candid erotic pictures from each one to add to your Booty Harem. It is important to have the right moves when seducing these breathtaking hotties, but at least you will be the only male citizen in town, so the competition is slim to none. You will have the potential to interact with over 13 unique girls, as well as the opportunity to see over 200 uncensored sex scenes and animations. There will be monthly events and a guaranteed good time to be had by all. There is nothing stopping you from putting in an honest day's work while getting a lot of booty on the side, so if you're willing to keep up your end of the deal and making the farm as great as can be, Mindy and her gorgeous girlfriends will be right there by your side to shower you with rewards and affection that will be sure to bring you to total satisfaction.​
System Requirements
Latest version of Chrome
Buy Game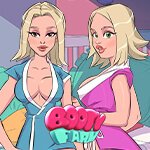 You are missing 0 gold to complete this purchase using Nutaku Gold
---
Select payment type
Taxes may apply or be included
Uh Oh, Payment Error
There was a problem completing your purchase.
Please try again
---
Select payment type
Your Purchase is Almost Complete
Your order has been successfully received, but we still need additional time to receive confirmation from your financial institution.
This should take a few hours or days.
You will receive a confirmation email once your purchase has been processed.