Home

›

Games

›

vixen wars online
Summary of Game
The world of Vixen Wars is filled with countless beautiful babes that you must align with in order to defeat the dark forces of evil which await you. As Prince of the Kinky Kingdom and rightful heir to the throne it is your sworn duty to liberate the land all the while scoring with numerous hotties on route to saving your lovely step-sister who has been corrupted by the Dark Magician. The goal here is to team up with gorgeous goddesses and work diligently to level them and their abilities to be able to overpower all of the dastardly foes who stand in your way.
Key Features
As you progress through the many challenging quests you will get the chance to flirt with and sweet talk your army of hotties, allowing you to build stronger bonds and ultimately unlock a plethora of hot erotic clips and content. In addition to the video clips, you will also get to collect and choose from a wide selection of very sexy costumes for your warrior vixens to wear into battle or behind closed doors. As you move forward in your quest, you will get to learn more and more about the girls, as each one has their own compelling and intriguing tale to tell. You will also get to accumulate a catalog of sexy pictures of each buxom beauty to remember and relive all of the steamy and heroic moments you lived through together. The game mechanics come down to a combination of how well you can best build your deck as well as how good your tower defense skills are. It will take a combination of accumulating powerful characters as well as using strategy to best figure out how to go about your campaign in the most efficient manner. You can also expect to be rewarded with free chests of treasure for every daily task you manage to complete. There are plenty of sexy she-devils just waiting to jump into battle, so no matter if you like blondes, brunettes, big breasts or perky ones, or anything else you fantasize about, you are sure to find the right fierce heroine for you. Available on the android platform, this exciting blend of action adventure and card gaming will fill your days with abundant hours of excitement and pleasure as you embark on an out of this world journey of magic, demons, triumph and wild sexy fun. It is a Hentai adventure unlike any other as you will be encouraged to get nice and cozy with a virtual harem of deadly babes in order to restore balance to a kingdom that is rightfully yours to inherit. Whether you are of a noble and pure heart, seeking to save your step-sister from the clutches of evil, or you simply want to satisfy your inner cravings for sexual satisfaction and joy, Vixen Wars will no doubt give you all of the tools necessary to leave you having the time of your life while keeping you coming back for more.
System Requirements
Latest version of Chrome
Buy Game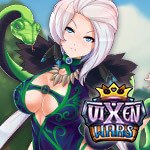 You are missing 0 gold to complete this purchase using Nutaku Gold
---
Select payment type
Taxes may apply or be included
Uh Oh, Payment Error
There was a problem completing your purchase.
Please try again
---
Select payment type
Your Purchase is Almost Complete
Your order has been successfully received, but we still need additional time to receive confirmation from your financial institution.
This should take a few hours or days.
You will receive a confirmation email once your purchase has been processed.