Home

›

Games

›

monster harem online
Summary of Game
Monster Harem is an epic RPG adventure the likes of which you have never experienced before. You will be called upon to use every bit of your cunning and wit to overcome the challenges placed in front of you and save the damsels in distress. Thankfully you will not have to go at it alone as you will be assisted along the way by the very seductive Arianna The Light Keeper, who will ensure that you stay on the right path to success and amass a massive harem of hotties along the way to victory.
Key Features
The gameplay features a unique mix of dungeon crawling mixed with RPG elements as well as click mechanics, which all come together with some of the most sizzling brilliant visuals to make a gaming experience that is both fun and erotic. Your mission is very simple, you must save the kingdom, but standing in your way is the vile and evil Lord De Struck Shun who will stop at nothing to impose his sinister and diabolical evil over the land. Surely stopping a tyrant of such epic proportions is a monumental task but fortunately you will get to work alongside Arianna to see that justice is served, and along the way you will form a most impressive harem of powerful beauties to save the day. Monster Harem will give you top notch content featuring 19 girls and 28 H-scenes, giving you more than enough to satisfy your tastes. There are also 150 dungeons to explore on your way to thwarting the plans of those evil doers. These dungeons are where you can accumulate all kinds of riches but most importantly it is also where you can find and recruit your team of bountiful babes. These gorgeous heroines are the ones who will help to tip the scales of battle in your favor as you seek to obtain a supreme victory over the forces of darkness. How you utilize your army is entirely at your discretion as you have full control over which ones to level and add attributes to. You can even choose to sacrifice certain ones in order to strengthen the others and ensure that you are only taking a first class set of battling heroes into the depth of each dungeon. You can also choose to build your PvP arena team which will allow you to take on the challenge of going head to head with other players out there in the world. The Hentai content is absolutely sizzling and you will be left in awe at just how sensual these digital bombshells can be. Some scenes are unlocked as you progress through the game, while others are obtained through leveling the girls, so it is important to maintain a balance of both in order to maximize the content acquired. With a compelling story featuring an exhilarating all female cast and incredibly hot scenes featuring an ample amount of girl-on-girl action, there is nothing not to love about the fantastic world of Monster Harem.
System Requirements
Latest version of Chrome
Buy Game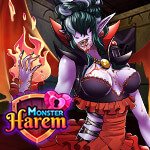 You are missing 0 gold to complete this purchase using Nutaku Gold
---
Select payment type
Taxes may apply or be included
Uh Oh, Payment Error
There was a problem completing your purchase.
Please try again
---
Select payment type
Your Purchase is Almost Complete
Your order has been successfully received, but we still need additional time to receive confirmation from your financial institution.
This should take a few hours or days.
You will receive a confirmation email once your purchase has been processed.