Home

›

Games

›

armor blitz online

Summary of Game
Armor Blitz is a pc browser game where you assemble a squad of anime style tank girls from the WWII era and lead them to battle. The gameplay consists of a mixture of card collection and real time tug-of-war lane battling. Armed with a small force of tanks, you must fight back against the invading force of the Corruption. As the commanding officer, it is up to you to give the orders and find the source of the mysterious invasion. Grow your army, manage your tanks, conquer new territory and deploy wisely! Armor Blitz is full of bosses, challenging enemies, and unique encounters. The hand-crafted story, and the diverse set of characters will grow on you as your journey begins. It's your move, Commander.
Key Features
Unique Collectible Characters:
Each character you encounter throughout the game is carefully designed with their own history. Each tank and enemy has hints of background coming from their historical past. Level them up and build your relationship status to make them even stronger!

Strategic Real-time Combat:
We utilize a mixture of traditional collectible card game mechanics with real time combat. Manage your army both on AND off the battlefield.

Take Control of the Battlefield:
Although you take the role of General, that doesn't mean you can't help your army! Use abilities, call in reinforcements, and carefully deploy your tanks to yield victory.

Engrossing Storyline:
The story is funny, engaging and impressionable. Explore the world of Valhalla, the resting place for warriors.
Game Information
Release Date:
System Requirements
Play in Chrome, Firefox, or Safari.
Have 512 MB of browser memory allocated if using Firefox.
Also must be on a 64 bit Operating System.
Buy Game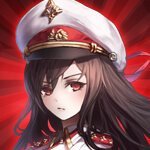 You are missing 0 gold to complete this purchase using Nutaku Gold
---
Select payment type
Taxes may apply or be included
Uh Oh, Payment Error
There was a problem completing your purchase.
Please try again
---
Select payment type