Home

›

Games

›

Idle

›

ninja maidens online
Summary of Game
You will have the opportunity to unleash your inner ninja to the fullest while scoring with a bunch of mysterious hotties in Ninja Maidens. Do not be fooled by the name as these sultry ladies are equipped to deliver major damage in addition to extreme pleasure. This one of a kind JRPG will take you on an outstanding adventure where you must muster up all your courage and cunning to assist the young kunoichi Mayu in defeating the forces of darkness lead by the dastardly evil empress Kitsumi.
Key Features
As you build your alliance with Mayu, you will do everything in your power to defeat as many foes as you can and get closer and closer to completing your objective. Thankfully you are not left to do this alone as you will acquire many sexy Yuri warriors along the way. These naughty vixens are powerful fighters who will lend their skills and services to your cause and make sure that all of your needs and desires(no matter how kinky) will be met. Even though the fate of the world is on the line here, this does not mean that these stunning beauties will not be able to put aside some time to let loose and get frisky all for your viewing pleasure. There are gorgeous Yuri girls for everyone's tastes, so whether you like them bubbly, outspoken, and brimming with joy or prefer the dark brooding silent type, or even anything else in between, you will definitely find the right fit for you as you journey through the Ninja Maiden's universe. There are 10 unique girls and over 30 erotic scenes that you will uncover as you amass an unbeatable team of skilled warriors and sex appeal. With over 600 adult scenarios and adventures to unfold, you will have endless hours of unique content to stimulate your every sense while working towards unlocking all of the battling beauties. There is also an extensive tower mode where various challenges are randomly thrown your way just to keep you on your toes as you sharpen your playing skills. Levelling up your characters is also a crucial aspect of the gameplay as you will need to master your ranged, melee, and healing skills in order to vanquish the evil forces which stand before you. A good chunk of the game is also based on Japanese folklore, so you may even get a bit of a history lesson along the way. Only in this unique environment which combines RPG gameplay and hentai erotica will you be able to build relationships with highly skilled and excessively beautiful babes, but also get to see to it that justice is served and that the evil forces of darkness get what is coming to them for all the bad they have done. Available now on PC and android and featuring some of the most high-quality art with 30+ hentai scenes you will definitely get a tremendous amount of bang for your buck with this sensually engaging adult game.
System Requirements
Latest version of Chrome
Buy Game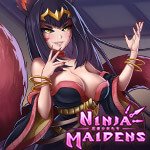 You are missing 0 gold to complete this purchase using Nutaku Gold
---
Select payment type
Taxes may apply or be included
Uh Oh, Payment Error
There was a problem completing your purchase.
Please try again
---
Select payment type